Professional BBQ Catering Services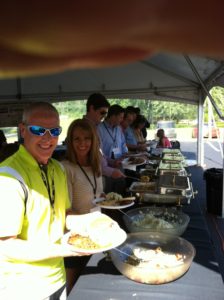 At Boonetown BBQ we know that your event is a representation of you and we want to make sure your guest are impressed.  That is why we have onsite professional BBQ catering with matching uniforms, black aprons and the best quality BBQ in North Carolina.  All of our food is cooked fresh for the day of the event and you will taste the difference!
If you want to combine or change something just tell us your preferred menu and we can create a menu that is specific to your event with exact pricing.  We bring the cooker onsite for the event so you know it is the freshest BBQ and sides you can get.
Pricing can vary so contact us for an exact quote but here is a starter:
$8.50/pp                Chopped Pork BBQ Meal w/2 Sauces, Baked Beans, Cole Slaw, Rolls.
Add $2.50/pp         Pulled Smoked Chicken BBQ
Add $2.75/pp         Smoked Chicken Thighs
Add $3.75/pp         Smoked Beef Brisket
Add $4.25/pp         Pork BBQ Baby Back Ribs
Add $2.75/PP         Hashbrown Casserole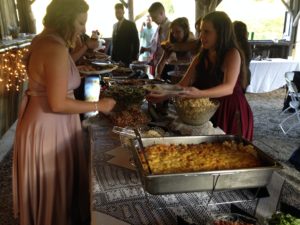 Add $2.75/pp         Pesto Pasta Salad  w/ Mozz Cheese & Cherry Tomatoes
Add $2.25/pp         Green Beans
Add $3.00/pp         Mac and Cheese
Add $2.50/pp         Apple Cobbler (our go to desert and crowd favorite)
Other available items – contact for pricing:
Smoked Parmesan encrusted shrimp

Chicken Wings (Dry Rub, Barbalo, BBQ, Buffalo/Hot)
Whole Hog Pig Pickin
Whole Chicken cut in portions
Chicken Quarters White or Dark Meat
Dream it up:
Pretty much if you can dream it up we have done it.    If you would like additional servers we can provide for drinks and table service.
Boonetown BBQ is a licensed catering company with headquarters in Boone, NC.  Our home kitchen is out of the River Street Ale House located on River St. next to the Appalachian State University campus.